TORTURA-Exhibition of Medieval Instruments of Torture and Punishment
TORTURA is the first of its kind historical exhibition to be held in the city of Melaka and in Malaysia. TORTURA is an exposition of the varied exploitation of mankind during the inquisition period in Europe. The concept of this Exhibtion is to take visitors back to the dark ages of history, to the medieval period where people were tortured and punished for their opinions, race, religion, language, social status and even their gender.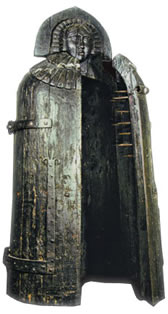 All instruments of Torture and Punishment are authentic museum pieces from the Museo Criminale, Medioevale, San Gimignano, Italy.
The Guillotine,
Ripping Trestle,
The Garrotte,
Juda's Cradle,
Branks,
Head Crusher with Screw and Upper Cap,
The Saw,
Oral, Rectal or Vaginal Pear and
Maiden of Nuremberg.